The JFK 100
Dean Andrews and "Clay Bertrand"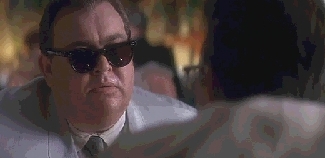 Did New Orleans attorney Dean Andrews (John Candy)
have inside knowledge of a JFK murder plot?
Oliver Stone's JFK points the finger of accusation at New Orleans attorney Dean Adams Andrews, Jr., strongly implying that he concealed the identity of a potential conspirator in the JFK assassination.

Did Dean Andrews possess inside knowledge of an assassination conspiracy? Was he guilty of obstructing justice and protecting individuals implicated in the death of a president?

In his deposition for the Warren Commission, Andrews told of a mysterious character named Clay Bertrand, whom Andrews claimed phoned him shortly after the assassination and asked him to represent accused assassin Lee Harvey Oswald in Dallas.

When New Orleans District Attorney Jim Garrison began investigating the Kennedy assassination in late 1966, one of the few leads he had was Bertrand. But who was Bertrand? Dean Andrews said he didn't know.

Garrison invited Andrews to a series of informal dinners, trying to pry loose information from the evasive attorney. Oliver Stone's JFK depicts a climactic moment during such a meeting, with Jim Garrison expressing his displeasure at Andrews's apparent lack of candor.
As Andrews resumes eating his crabmeat Louie with gusto, Jim reaches over and grabs the fork in mid-air.

JIM


Dean, I think we're having a communication problem. I know you know who Clay Bertrand is. Now stop eating that damn crabmeat for a minute and listen.

(gets Dean's attention)

I'm aware of our long friendship, but I want you to know I'm going to call you in front of a grand jury. I took nine judges on, Deano, right here in New Orleans, and I beat 'em all. If you lie to the grand jury as you've been lying to me, I'm going to charge you with perjury. Now, am I communicating with you?

Andrews puts down the fork, shaken, silent for a moment.

ANDREWS


Is this off the record, Daddy-o?

(Jim nods)

In that case, let me sum it up for you real quick. If I answer that question you keep asking me, if I give you the name of the "Big Enchilada," y'know, then it's bon voyage, Deano -- I mean like permanent. I mean like a bullet in my head. You dig? Does that help you see my problem a little better? You're a mouse fighting a gorilla. Kennedy's dead as that crabmeat. The government's still breathing. You want to line up with a dead man?(1)
Oliver Stone takes this account from Jim Garrison, whose 1988 memoir, On the Trail of the Assassins, contains a virtually identical exchange.(2)
Dean Andrews recalled his meetings with Garrison quite differently, however, and, as we will see, it is Andrews's version -- not Big Jim's -- that is supported by contemporaneous documentation from the DA's investigation.
Article continues below.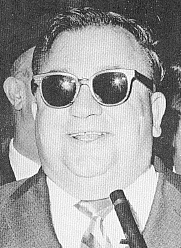 Dean Andrews
When Jim Garrison began looking into the Kennedy assassination, one of the first people he called was Dean Andrews. Garrison and Andrews had known each other for years, and had even gone to law school together. The DA invited the attorney to lunch at Broussards, a fine restaurant in the French Quarter. (They were to meet at 1:30, but "I knew him," Andrews noted, "so I went at 3 o'clock. He still wasn't there.")(3)
When Garrison arrived, he displayed a copy of Harold Weisberg's Warren Report critique, Whitewash, which discussed Andrews's testimony, and said, "I didn't know you were in the Warren Report." They discussed the Report's conclusions, which neither believed in.(4) During his 1964 deposition, in fact, Andrews, had flatly informed Commission counsel Wesley Liebeler that one man could not possibly have performed the assassination alone.(5)
The talk was casual; Andrews had no idea the DA was mulling over the prospect of a new investigation of the assassination. Andrews repeated his fable about "Clay Bertrand" to Garrison, and the two men met at Broussards on several further occasions in the following weeks.(6)
As it became apparent that Garrison was intent upon learning the identity of the mythical "Bertrand," Andrews grew increasingly concerned, particularly when, shortly before Christmas 1966, the DA unveiled to Andrews his theory that "Bertrand" was prominent New Orleans businessman and civic leader Clay Shaw.
This put Andrews in a bit of a quandary. He had no intention of revealing that he had fabricated his tale about "Bertrand," but neither did he want Garrison chasing after an innocent man. According to Andrews, he told Garrison that whoever the mystery man was, Clay Shaw was not "in any way, shape or form, Clay Bertrand."(7)
As he had several times before, Garrison pressed Andrews for information on the "Mexicanos" Andrews claimed had accompanied Lee Harvey Oswald to his office in 1963. Beginning to suspect Garrison's motives, Andrews devised a test.(8)
Inventing a name out of thin air, he told the DA that one of Oswald's alleged companions was a Cuban named "Manuel Garcia Gonzales." As Andrews later explained to NBC, Garrison "wanted to pick me like a chicken, shuck me like corn, stew me like an oyster. I wanted to see if the cat was kosher."(9)
Garrison soon announced to the public that he had uncovered the name of the "triggerman" in Dealey Plaza -- "Manuel Garcia Gonzales" -- and formally charged "Gonzales" with selling narcotics.(10) A few months later (well after Clay Shaw had been arrested), the DA would state that he'd gladly give up Shaw if he could only get ahold of the "real" assassin, "Manuel Garcia Gonzales."(11)
On February 23, 1967, the day after Garrison's prime suspect David Ferrie died, the DA invited Andrews to one last meeting. He needed to know if Andrews could identify Clay Shaw as "Clay Bertrand." No, Andrews replied, he could not.(12)
Garrison prodded him to reconsider, impressing upon him the fame and fortune that would await those who unmasked a conspiracy behind John F. Kennedy's murder. "We will ride to glory together," Garrison urged. But the attorney stood firm.(13)
"Do whatever you want," Andrews told him, "but leave me out of it. Everybody knows I don't even know Clay Shaw."(14)
Andrews had made one fatal misstep, however. During an earlier meeting, when Garrison had asked Andrews if he knew David Ferrie, Andrews said that he did, and volunteered that he had once arranged a parole for a friend of Ferrie's. He acknowledged that this had not been "a strictly legal move for an assistant DA to make."(15) The attorney never imagined his old pal Jim would use the information against him.
According to Andrews, the DA now offered him a deal. Since no one in New Orleans but Dean Andrews had ever heard of Clay Bertrand, Andrews was the only person who could confirm or deny Bertrand's identity. The attorney therefore had a choice, Garrison informed him. He could face an indictment for the parole action he had so freely admitted, or he could play ball. Playing ball meant Andrews would neither confirm nor deny that Shaw was Bertrand.(16)
Andrews reluctantly agreed.(17)As he explained later to a friend, "I never believed that Jim would go through with a frame-up."(18)
Who was telling the truth about their meetings: Jim Garrison or Dean Andrews?
According to Garrison, Andrews claimed that revealing the identity of "Clay Bertrand" could get him killed.(19)
But when Life editor Richard Billings, who was working closely with the DA's office, asked Garrison if he knew the identity of the mysterious "Bertrand," the DA told him that he believed "Bertrand" was Clay Shaw, but on the other hand, "Bertrand" might not even exist.(20)
When Garrison spoke to Billings on February 23, 1967, following his final meeting at Broussards with Dean Andrews, the DA related that Andrews insisted there was no "Clay Bertrand" at all.(21)
On March 2, the day after Clay Shaw's arrest, four of the DA's men called Andrews in and interrogated him. Was Clay Shaw "Clay Bertrand?" they demanded.(22)
"No," Andrews said flatly.(23)
He was later asked by a member of the Orleans Parish Grand Jury, "Dean, do you know who killed President Kennedy?"(24)
"No, man, let's quit being facetious," Andrews snapped. "The answer is negative. If I knew, I would have put down like a thousand pound canary. . . . I don't know who killed Number One. If I did, I would have went and sang like a canary a long time ago. I like this country too, you know."(25)
Jim Garrison distorted Dean Andrews's words, and Oliver Stone followed suit.
Copyright © 2001 by David Reitzes

You may wish to see . . .

The JFK 100: Was There a "Clay Bertrand"?

The JFK 100: Who Was Dean Andrews?
NOTES:

1. Oliver Stone and Zachary Sklar, JFK: The Book of the Film (New York: Applause, 1992), p. 65. All quotations are from the shooting script and may vary slightly from the finished motion picture.

2. Jim Garrison, On the Trail of the Assassins (New York: Warner Books, 1992), pp. 94-95.

3. Milton E. Brener, The Garrison Case (New York: Clarkson N. Potter, 1969), p. 61.

4. Milton E. Brener, The Garrison Case (New York: Clarkson N. Potter, 1969), p. 61.

5. Warren Commission Hearings, Vol. XI, p. 330.

6. Brener, p. 61.

7. Edward Jay Epstein, The Assassination Chronicles (New York: Carroll and Graf, 1992), p. 228.

8. Brener, pp. 61-62; Patricia Lambert, False Witness (New York: M. Evans and Co., 1998), p. 50.

9. NBC News White Paper, The JFK Conspiracy: The Case of Jim Garrison, broadcast June 19, 1967.

10. Brener, p. 64.

11. Brener, p. 62.

12. Brener, p. 64.

13. Brener, pp. 64-65.

14. Brener, p. 65.

15. Lambert, p. 50; Epstein, p. 227.

16. Lambert, p. 50; Epstein, pp. 227-29. When Andrews testified before the grand jury, the witness who followed him was Thomas Clark, the young man whose parole Andrews had arranged.

17. Lambert, p. 50; Epstein, pp. 227-29; Brener, p. 65.

18. Brener, p. 65.

19. Jim Garrison, On the Trail of the Assassins (New York: Warner Books, 1992), pp. 94-95.

20. Richard Billings, "Dick Billings's personal notes on consultations and interviews with Garrison," January 22, 1967.

21. Richard Billings, "Dick Billings's personal notes on consultations and interviews with Garrison," February 23, 1967.

22. Gerald Posner, "Garrison Guilty. Another Case Closed," The New York Times Magazine, August 6, 1995.

23. Gerald Posner, "Garrison Guilty. Another Case Closed," The New York Times Magazine, August 6, 1995.

24. Grand Jury testimony of Dean Andrews, March 16, 1967.

23. Grand Jury testimony of Dean Andrews, March 16, 1967. Advocates of Jim Garrison's claims like to point out that Andrews did tell a number of journalists that he possessed knowledge that could get him killed. Students of the case must decide for themselves which version of Andrews's story is more consistent with the evidence as a whole. The point of this article is to demonstrate that contemporaneous documents prove Oliver Stone and Jim Garrison's versions of Garrison's meetings with Dean Andrews to be false.
You may wish to see . . .
The JFK 100: Was There a "Clay Bertrand"?
The JFK 100: Who Was Dean Andrews?