The JFK 100
Jim Garrison's JFK Probe Leaked to the Press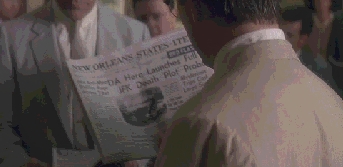 An unwelcome headline?
Oliver Stone's JFK depicts New Orleans District Attorney Jim Garrison (Kevin Costner) taken by surprise when a local newspaper publicizes his secret investigation into the John F. Kennedy assassination. One investigator claims that Garrison suspect Clay Shaw "must've gotten them on our tail." Another points out it could have been a number of other suspects or witnesses.(1)

In reality, however, Jim Garrison was not surprised in the least by the story that appeared in the paper, nor was there any question about how the press got wind of his activities.

In January 1967, rumors were circulating throughout New Orleans that something out of the ordinary was going on at the District Attorney's Office, which, under the stewardship of Jim Garrison, had long since developed a reputation for out of the ordinary occurrences.

Attorney Milton Brener, who, in the early 1960s, had served for several years as an assistant DA under Garrison, writes:
One day in early January 1967, I was standing in the reception room of the District Attorney's office. I was approached by a former assistant district attorney under Garrison, one whose departure from the office coincided with mine in September 1963. He obviously had something to say.

"The more things change around here, the more they stay the same." His tone was a mixture of amusement and disbelief. "Do you know what Garrison's investigating now? The assassination of Kennedy!" The incredulity I felt must have shown clearly, for my friend continued, as though trying to convince me. "He has investigators going all over-- to Miami, San Francisco, Dallas -- he's supposed to be trying to find some kind of conspiracy." . . .

"Where is the press?" was my first reaction.(2)
As it happens, the press was right there on the inside, but not the local press. Life magazine had cut a deal with the DA: in return for their assistance, Garrison promised them an exclusive story.(3)

By February, however, rumors were swirling; New Orleans States-Item police reporter Jack Dempsey even wondered about the probe's existence in his column. Finally, States-Item city editor John Wilds set about to determine whether the rumors were true. He sent Dempsey and reporter Rosemary James to talk to the DA's office, while reporter David Snyder was sent to City Hall to check on the DA's expense vouchers.(4)

Rosemary James tried to set up an appointment with Garrison, but when he begged off, she asked him over the phone if he was investigating the Kennedy assassination. "I will neither confirm nor deny that," he told her.(5)

David Snyder had better luck at City Hall. The District Attorney's Office was required to file an itemized listing of their expenses, and Snyder turned up details on some $8,000 spent on trips to Texas, Florida, and California.(6)

At 10:00 AM on the morning of February 17, 1967, Rosemary James paid a visit to Jim Garrison's office and personally handed him a copy of the story she, Dempsey, and Snyder had written, detailing the money the DA's office was secretly spending on the subject of the JFK assassination. Garrison glanced at the first page and handed it back to her. "I will neither confirm nor deny it," he said.(7)

"All he had to do was say no," Rosemary James said in 1992. "He wanted us to print it." In fact, the paper's management informed the DA they intended to run the story. "Go ahead," Garrison said.(8)

Copyright © 2001 by David Reitzes
NOTES:

1. Oliver Stone and Zachary Sklar, JFK: The Book of the Film (New York: Applause, 1992), p. 85. All quotations are from the shooting script and may vary slightly from the finished motion picture.

2. Milton E. Brener, The Garrison Case (New York: Clarkson N. Potter, 1969), p. 43.

3. Patricia Lambert, False Witness (New York: M. Evans and Co., 1998), pp. 43-46.

4. Patricia Lambert, False Witness (New York: M. Evans and Co., 1998), p. 56.

5. Patricia Lambert, False Witness (New York: M. Evans and Co., 1998), p. 56.

6. Patricia Lambert, False Witness (New York: M. Evans and Co., 1998), p. 56.

7. Patricia Lambert, False Witness (New York: M. Evans and Co., 1998), pp. 56-57.

8. Patricia Lambert, False Witness (New York: M. Evans and Co., 1998), p. 57.
Back to the top