The JFK 100
Lee Harvey Oswald Impersonated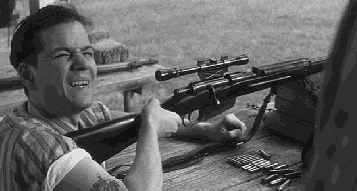 Frank Whaley as a Lee Harvey Oswald lookalike
According to Oliver Stone's JFK, Lee Harvey Oswald was being impersonated in the months preceding the JFK assassination.
GARRISON HOME - NIGHT (1967)

Jim [Garrison], Lou [Ivon], Al [Oser], Susie [fictional investigator "Susie Cox"], and Numa [Bertel] sit around the table having an after hours conference. The kids run in and out of the room, playing. Susie is doing the talking, showing new paperwork and photos.

SUSIE

Your hunch was right, boss, but it's even spookier than we thought. Starting in September '63 on, two months before the assassination, there are sightings of Oswald all over Dallas, buying ammunition, getting a telescopic sight fixed, going to rifle ranges . . . Early November, a Dallas downtown Lincoln-Mercury dealership where he tells the salesman Albert Bogard . . .

FLASHBACK TO the Lincoln-Mercury dealership. Oswald is deliberately kept in half or three quarter shots -- a mystery figure. He kicks the tires on a used red Mercury Comet, cocky.

"OSWALD"

Let's take it out for a test drive.

The salesman, Bogard, is hesitant. "Oswald" doesn't look like he's got a dime to his name.

"OSWALD" (CONT'D)
(sensing Bogard's hesitancy)

Hey, I got a lotta money coming in the next two weeks.

In the next scene we see the car, driven by "Oswald," zooming up the ramp and disappearing onto the freeway.

SUSIE (V.O.)

. . . despite the fact he has no license and from what [his wife] Marina says, does not know how to drive, he hits the curves like Mario Andretti at the Indy 500. Bogard later told his boss he drove "like a madman."

Resume the scene at the dealership.

BOGARD

Three hundred bucks down, Mr. Oswald, you can drive outta here with it.

"Oswald," unhappy, starts to leave.

"OSWALD"

Who you kidding! For this heap? Forget it . . . No honest working man can afford a car anymore in the goddamn country! Maybe I'll have to go back to Russia to buy a car . . .

SUSIE (V.O.)

. . . really dumb dialogue like he's trying to draw attention to himself. A real moron. He walks out. The salesman remembers him as about 5'7", but we know from his draft card he was about 5'11" . . .

LOU

. . . several witnesses see him on several separate days at different firing ranges.

FLASHBACK TO a Dallas firing range in 1963.

LOU (V.O.) (CONT'D)

. . . one time, November 9, he decides he needs to practice on the target of the guy next to him. Says something really dumb to the guy, who says Oswald was a great shot.

MAN

Hey, watcha doing, boy . . . that's my target.

"OSWALD"

Hey, sorry, buddy. I just thought it was that sonofabitch Kennedy, y'know. I couldn't help myself. (laughs)

JIM (in present)

. . . about as subtle as a cockroach crawling across a white rug.

SUSIE

I'll go you one better, Lou. He shows up at Silvia Odio's, a Cuban lady in Dallas working in the anti-Castro underground -- remember that name, a solid witness. The two Cubans introduce him as "Leon Oswald."

FLASHBACK TO the corridor of Silvia Odio's apartment in Dallas on a night in 1963. Oswald drags behind two Cubans -- one is "the Bull," heavyset with a scar over his left eye, who we saw at the Canal Street incident, and the other, "the Indian," is quiet and cold. The men ring the doorbell and talk to a concerned Silvia as Oswald hangs back, watching, in the shadows. The men give her intimate information about her father, who is imprisoned in Cuba. The men chatter ad lib in Spanish.

SUSIE (V.O.) (CONT'D)

. . . the Cubans want Silvia, whose parents are political prisoners in Cuba, to help them raise money to assassinate Castro. Something about the men bothers her. She tells them she doesn't want anything to do with violence . . . about 48 hours later one of the Cubans calls her back . . .

We see a shot of Silvia on the phone in her apartment intercut with a shot of "the Bull" in a gas station phone booth, on a night in 1963.

THE BULL (on the phone, in Spanish)

This guy Leon Oswald's great, he's kinda nuts . . . he told us we don't have any guts, us Cubans, 'cause Kennedy should've been whacked after the Bay of Pigs, and some Cubans should've done that, it's easy to do, he says -- you know he's a Marine, an expert shooter . . .

Silvia Odio is surprised to hear this information volunteered. "The Bull's" eyes are on "Oswaldo," outside the booth with "the Indian." They're hanging out, talking to a mystery man, an Anglo.

SUSIE

It's like he's giving her information she doesn't even ask for. She's scared, doesn't see them again till she sees Oswald's picture in the paper. But the Warren Commission says she has bad eyesight because they have Oswald in Mexico at this time, trying to get back [sic] into Cuba.(1)
In all three cases, Stone represents the eyewitness testimony reasonably accurately; but there are essentially two major problems with his hypothesis of an Oswald impostor.

First, in each of the three cases Stone cites, there is no definitive proof that the individual in question was not Lee Harvey Oswald. Stone simply assumes this to be a fact, and for what seems a most ironic reason: because the Warren Commission said so.

In each of the three cases, the Warren Commission concluded that Oswald was accounted for elsewhere at the time of the sightings; but does Oliver Stone really mean to imply that the Warren Commission could not have been in error?

The Commission concluded that Oswald could not have been the man reportedly taking the test drive because automobile salesman Albert Guy Bogard believed the date of the incident to have been November 9, 1963; and witnesses Marina Oswald and Ruth Paine, with whom Oswald spent the ninth, did not believe Oswald could have slipped away for any significant length of time.(2) But other witnesses at the automobile dealership believed the date of the incident was a week earlier, on November 2nd.(3)

The Warren Commission likewise concluded that Oswald could not have been the individual placed by a number of witnesses at the Sports Drome Rifle Range on several occasions, because the times and dates of the incidents would seem to conflict with the testimony of Marina Oswald and Ruth Paine.(4) It is possible the rifle range witnesses were in error; it is also possible Mrs. Oswald and Mrs. Paine were in error. Author Gus Russo has advanced some intriguing, albeit unsubstantiated new indications that the rifle range witnesses may have been correct.

The Commission concluded that Oswald was not the individual reportedly seen by Silvia Odio and her younger sister, Annie, because the sighting conflicted with the Commission's reconstruction of Oswald's whereabouts at that time; and because a phone call Oswald made to a Houston residence at that time seems to imply that Oswald himself was in Houston.(5) As with the previous two cases, it is very possible, some would say highly likely, that the Warren Commission was correct in this conclusion. But it is far from certain, despite what Oliver Stone depicts in his movie.

The question then arises, what would Lee Oswald have been doing with two anti-Castro Cubans. One possibility has been suggested by author Jean Davison: that he was attempting to infiltrate their organization, as he may have been attempting with the anti-Castro Student Directorate (DRE) two months earlier.(6)

An even greater problem with Stone's scenario, however, is the nature of eyewitness testimony, the unreliability of which is difficult to overestimate. Following the assassination, literally hundreds of people in the US, Mexico, and Canada contacted the authorities, offering information about Oswald, often placing him in cities or states he had never been or at times when he was known to have been elsewhere. In many cases, the individual described bears little resemblance to the accused assassin. Even those who firmly believe Oswald was impersonated at one time or another have no choice but to discard some of these accounts as incorrect or fraudulent.

One notable example is the case of Alice, Texas, a city some four hundred miles south of Dallas. Seventeen eyewitnesses in or around Alice placed Lee Harvey Oswald and his wife, Marina, in that area during October of 1963, at a time when Lee and Marina are each known, without a doubt, to have been in Dallas and Irving (a suburb of Dallas), respectively. Even a cursory examination of the accounts reveals that the couple these witnesses describe is inconsistent with the descriptions of Lee and Marina Oswald; it is almost universally accepted by assassination researchers that the Alice witnesses were describing another couple.

Equally significant is the fact that none of the Alice area accounts suggest in the slightest that Lee Harvey Oswald was being impersonated. "Oswald" is simply not described as doing anything even remotely sinister or incriminating; he is depicted as merely inquiring about employment and taking his wife shopping. It is difficult to imagine what the point of such an "impersonation" would be.

There is no reason to doubt the honesty of the Alice area witnesses; the likelihood is that they were simply mistaken -- all seventeen of them. So isn't it possible that other witnesses, like those at the Downtown Lincoln-Mercury Dealership, the Sports Drome Rifle Range, and the residence of Silvia Odio, could be mistaken as well?

Oliver Stone never allows for that possibility.

Copyright © 2001 by David Reitzes

You may wish to see . . .

The JFK 100: Who Was Lee Harvey Oswald?
NOTES:

1. Oliver Stone and Zachary Sklar, JFK: The Book of the Film (New York: Applause, 1992), pp. 72-74. All quotations are from the shooting script and may vary slightly from the finished motion picture.

2. Warren Commission Report, p. 321. Another factor in the Commission's conclusion was that Oswald was not known to be a proficient driver, based in part on the testimony of Ruth Paine, who was giving Oswald informal driving lessons in October and November 1963.

3. Sheldon Inkol, "Jack Lawrence: Assassin or Fall Guy?" The Third Decade, July 1991.

4. Warren Commission Report, pp. 318-20.

5. Warren Commission Report, pp. 321-25.

5. Jean Davison, Oswald's Game (New York: W. W. Norton, 1983), pp. 195-96.
You may wish to see . . .
The JFK 100: Who Was Lee Harvey Oswald?