The JFK 100
A meeting at the DA's office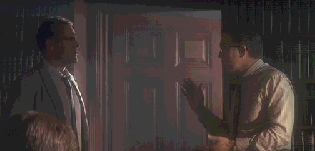 Lou Ivon (Jay O. Sanders) and Jim Garrison (Kevin Costner)
In Oliver Stone's JFK, at about the same time Garrison suspect David Ferrie is supposedly being murdered, New Orleans District Attorney Jim Garrison (Kevin Costner) is holding a meeting to discuss what to do about Ferrie.
LOU [IVON]

Boss, I tell you something or somebody is putting tremendous heat on David Ferrie. If we sit on our behinds any longer, I don't think the guy's going to hold on.

SUSIE [COX] (raps the newspaper)

Look at this bulls***! He keeps changing what he says. We can't possibly call him to a Grand Jury.

JIM

Susie, watch the language, would you please.

AL [OSER]

My instinct is that Ferrie is going to keep on deteriorating, and we'll end up getting more out of him when he finally cracks. If we call him now, he might freeze up and we could lose the best shot we've ever had.

LOU

You don't get it, guys -- he can't go down any further. We got to protect him full time.(1)
No such meeting ever occurred; this scene is pure fiction.

No one claimed that Ferrie kept "changing what he says" -- he was perfectly consistent in his denials that he knew Lee Harvey Oswald or had anything whatsoever to do with an assassination plot against John F. Kennedy.

No one was concerned about Ferrie "deteriorating." In fact, Lou Ivon and Andrew Sciambra had interviewed Ferrie just a few days earlier, and Ferrie was both completely lucid and typically adamant in his denials.

There also was no chance of Ferrie being called before the Grand Jury, as it was common knowledge around the DA's office that they had no evidence whatsoever linking him to the assassination.(2) Bringing Ferrie before a Grand Jury without even probable cause for an arrest, much less an indictment, would have shown the DA's JFK probe to be wholly without foundation.

The only person who could have benefited from a Grand Jury hearing is Ferrie himself, who was champing at the bit to clear his name and move on with his life. It was Ferrie, after all, who had been trying to see Jim Garrison in person, "look him in the face," and straighten out Garrison's misconceptions about him. It was the DA who refused to talk.

Article continues below.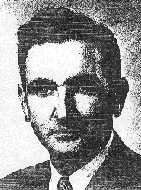 David Ferrie

For all of the inaccuracy of Stone's scene, however, it's not nearly as deceitful as the claim of Jim Garrison's upon which it is based. Garrison, after all, claimed that, just prior to Dave Ferrie's death, he and his men had been preparing to arrest Ferrie on a conspiracy charge.(3)

In 1994, former Assistant DA James Alcock dispelled that myth once and for all. "To my knowledge," he told researcher Patricia Lambert, "there was no intent to arrest David Ferrie." "Alcock should know," Lambert adds. "He was one of those Garrison said was present when the 'decision' was made."(4)

Copyright © 2001 by David Reitzes

You may wish to see . . .

The JFK 100: Who Was David Ferrie?

The JFK 100: David Ferrie becomes a suspect
NOTES:

1. Oliver Stone and Zachary Sklar, JFK: The Book of the Film (New York: Applause, 1992), p. 99. All quotations are from the shooting script and may vary slightly from the finished motion picture.

2. From investigator Tom Bethell's journal: "[Assistant DA James] Alcock discussed Ferrie and pointed out he saw no reason to believe Ferrie was involved." (October 2, 1967.) "I had been boiling up for a row with Mark Lane and his lieutenant Gary Sanders, and it burst today. I confronted Lane with his right to read and xerox our files -- he was in the process of reading the Ferrie file when this occurred. I asked him how he felt that xeroxing the files contributed to the investigation. He kept quite calm and replied that Garrison set policy in the office, not me, and that therefore he could xerox them if he wanted to, which was I suppose a reasonable answer. I also told Lane that it was my belief he had lied to me about some information provided him by David Lifton. Lifton, a friend of Wesley Liebeler in Los Angeles, had managed to get some information from Liebeler about the classified pages on David Ferrie in the National Archives. Liebeler worked on this area for the Warren Commission and had copies of the classified pages, which he read out to Lifton one evening. (He would not let Lifton have copies of them.) Lifton ran home and wrote down all he could remember. He then later met Lane and told him he had this material written down. Lane told him that he had to have it because he was on his way to New Orleans and Garrison would like to see it. Lifton gave him the material, as well as some info from some columnist. Lane says he only got the columnist material, not the other. Lifton was quite surprised to hear this, and surprised to hear that we did not have the Ferrie material in the office by now. Their stories are in flat contradiction, and there is no doubt in my mind that Lane is lying. The fact is the Ferrie material is worse than useless to Garrison, because it indicates that the FBI is not hiding anything significant about Ferrie, and thus deprives Garrison of an excuse to talk about governmental secrecy, etc. Lane is smart enough to realize this, and no doubt decided that the best thing would be simply not to show the Lifton material to Garrison at all." (November 3, 1967.) "I saw Lane later in the afternoon, and we more or less agreed to stop the feud. I told him, however, what it was that concerned me more than anything: some of the files, which I was supposed to be in charge of, were something of an embarrassment to me. The Ferrie file contains no evidence that Ferrie knew Oswald, which is the relationship which the investigation was originally predicated on. The Ferrie file is, in fact, simply a report on a negative investigation. Under the circumstances then, it was somewhat embarrassing to have outsiders like Gary Sanders coming round reading the file. Lane reacted as though he appreciated my problem and then said: "Well, in future, if anyone looks at the Ferrie file, just tell them that the important material from it has been put into a confidential file somewhere." By saying this, of course, Mark Lane was acknowledging the lack of basis for the investigation." (November 4, 1967.) "When I arrived in the office in the morning, Steve Burton was already there, going through some of the files in my office. Evidently Ivon had let him in. Of course, most of the sensitive files (Shaw, Bradley, Thornley) are not there, but in Louis Ivon's office. Burton had, however, made a bee line for the next most interesting file -- Ferrie (actually two files on Ferrie). He had looked through them already and was looking at something else. I started to talk to him a bout something and then he said: "I think it's a good idea not keeping the Shaw file here where people could see it. I notice you have got all the important material withdrawn from the Ferrie file as well." I said nothing, just vaguely nodded. Of course, he had seen the Ferrie file in its entirety." (February 26, 1968.) "Billings feels that Garrison was in possession of important and convincing information implicating Ferrie early on in the investigation -- information which he has never made available to anyone. Billings feels this because Garrison was so positive, so sure, so convincing, about Ferrie. I do not believe this is true for a minute. Garrison has a way of being very sure and very convincing about things on precious little evidence." (March 15, 1968.)

3. Milton E. Brener, The Garrison Case (New York: Clarkson N. Potter, 1969), p. 83.

4. Patricia Lambert, False Witness (New York: M. Evans and Co., 1998), p. 65.
You may wish to see . . .
The JFK 100: Who Was David Ferrie?
The JFK 100: David Ferrie becomes a suspect