The JFK 100
Clay Shaw and the CIA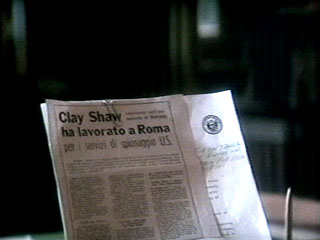 Did Clay Shaw work for the Central Intelligence Agency?
In Oliver Stone's JFK, New Orleans District Attorney Jim Garrison (Kevin Costner) confronts Clay Shaw (Tommy Lee Jones) with the allegation that Shaw has connections to the CIA.

"Mr. Shaw," Garrison says, showing him a newspaper clipping, "this is an Italian newspaper article saying you were a member of the Board of Centro Mondo [sic] Commerciale in Italy, that this company was a creature of the CIA for the transfer of funds in Italy for illegal political-espionage activities. It says that this company was expelled from Italy for those activities. . . . It says that this company has heavily Fascist ties to the French secret army organization that tried to assassinate de Gaulle in 1960."(1)

In reality, Jim Garrison never accused Shaw of being a CIA agent at any time prior to his arrest or during his two-year-long prosecution, nor did Garrison ever publicly acknowledge the allegations published in the Italian press about Shaw, allegations Garrison would later falsely state in his memoirs he was unaware of at the time.(2) But that is not the main issue here. The real issue, of course, is that the allegations were not true.

On March 4, 1967, three days after Shaw's arrest in New Orleans, Paese Sera, a crypto-Communist Italian tabloid, (3) charged that a defunct corporation, Centro Mondiale Commerciale (World Trade Center) -- whose Board of Directors included Clay Shaw -- was a CIA front, masking illegal anti-Communist operations in Italy. In the three decades since the claim was published, no one has advanced a shred of proof for this; certainly not Paese Sera, which simultaneously alleged financial links between CMC's parent corporation, PERMINDEX (Permanent Industrial Exhibitions) and the OAS, the illegal French paramilitary organization responsible for assassination attempts against President Charles De Gaulle.

Rome's mainstream newspaper, Corriere della Sera, denounced the Paese Sera charges as "ridiculous." It also reported that Shaw had been nominated as a member of the company's board of directors, but had never formally accepted the appointment, nor did he ever travel to Rome to meet with representatives of the organization, contrary to claims published in Paese Sera.

Shaw spoke about his association with the Centro Mondiale Commerciale in an interview with Penthouse:
Back in 1959 or 1960, a young Italian came to see me in New Orleans and told me about a world trade center that was being planned in Rome. The idea was to have one place where buyers coming into the Common Market area would find all the Common Market countries represented in one center. He wanted my advice and asked me to serve on the board of directors. I had no objection if it was a legitimate project. I investigated it and found that the head of it was a man named [Ferenc] Nagy, who had been the last non-Communist premier of Hungary. Some of the other people involved were Italian senators, journalists, lawyers, and other responsible people. It was agreed that we would have an exhibit at their center, and they would have one at the mart here in New Orleans, and we would exchange information and so on. I didn't mind being on their board, although there was no money involved, but I would have to go to Rome annually to the board meetings and my way would be paid, so why not?

Then they ran into difficulties, but they finally got the center opened. It turned out to be either badly planned or badly organized and it closed very shortly, and that was the last I ever heard of it. I never heard that it was a CIA operation and I don't know that it was. I'll say this -- it was a highly unsuccessful operation, which is not customary with the CIA. Other than what I've told you, I know nothing more about the Centro Mondiale Commerciale. I have never had any connection with the CIA.
Perhaps if Paese Sera had a sterling reputation for integrity and accuracy, their unsubstantiated allegations could be taken seriously. But the six-volume Laterza-Bari History of the Italian Press notes that Paese Sera was characterized by its sensationalistic style and a certain tendency towards "imaginative" stories with "made-up," "synthetical" details.(4) "In American terms," author Max Holland has noted, "Paese Sera was a heavily politicized version of the National Enquirer."(5)

Steve Dorril, writing in the British intelligence journal, Lobster, demonstrates that Paese Sera's reporting on the Shaw affair leaves a great deal to be desired. For example, a March 18, 1967, article "announced that Shaw had organized Kennedy's visit to Dallas and had proposed the luncheon at the Trade Mart. Both assertions were untrue."(6) Dorril is being kind; these are fictions no high school newspaper would have allowed to see print.

More telling, though, is another observation of Dorril's: Were the charges of CIA involvement with CMC utterly without foundation, it would not be the first time the extremely anti-American newspaper printed false, arguably malicious information about the CIA. For example, on April 22, 1961, when a group of French generals tried to illegally oust President Charles De Gaulle, Paese Sera published unsubstantiated claims that the CIA had participated in the plot. (7)

In an internal CIA memorandum from 1967, declassified a decade later, we get a glimpse of the CIA's private reaction to the charges concerning its alleged involvement with Centro Mondiale Commerciale. Commenting on a number of assertions that Pravda had picked up from Paese Sera, including claims that the "CIA made use of the services of Clay Shaw for [the] CIA's own interests in Italy," "that the Center was a cover for financing anti-Communist activity," and that the "CIA gave directives to Shaw," the memorandum states, "It appears that all of the Pravda charges are untrue. . . . So far as is known, Shaw was never asked to use his relationship with the World Trade Center for clandestine purposes and, in fact, he has not been in Italy." (8)

Click here for more information on
Paese Sera and the CMC story

Article continues below.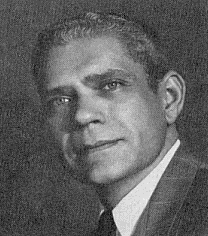 Clay Shaw
As a fallback argument, Jim Garrison's advocates argue that proof of Shaw's alleged status as a CIA operative can be found in the fact that Shaw was briefly a contact of the Agency's Domestic Contact Service (DCS), from December 1948 to May 1956.(9) During that time, Shaw was one of literally thousands of US citizens debriefed each year about their travels and contacts abroad.(10) Given the Trade Mart's goals and activities, it would have been unusual had the CIA not sought information from some of its employees. (The wholly innocuous information Shaw provided DCS is now available for inspection at the National Archives.)(11)
Contacts are neither contract agents nor employees of the CIA; they have no more status with that agency than an eyewitness to a crime has with the local police department.(12) As a rule, contacts are not paid,(13) as indeed, Shaw was not.(14) More relevantly, "contact" status can certainly not be related to the notorious exploits of the CIA's Covert Action arm, which conspiracy theorists have endeavored for decades to link to the Kennedy assassination.(15)
In short, there is no truth to the allegations of Jim Garrison and his advocates. Even if there were, what on earth would it have to do with the Kennedy assassination? As author Harrison Edward Livingstone observes, even if Shaw had possessed Agency "connections," "This is very lame reliance on guilt by association."(16)
Longtime researcher Patricia Lambert notes that "even if Shaw were a CIA employee, he would have assisted the agency out of the same patriotic feelings most Americans share. Garrison never allowed for that possibility."(17)
Neither, obviously, does Oliver Stone.
Copyright © 2001 by David Reitzes
You may wish to see . . .
The JFK 100: Who Was Clay Shaw?
The JFK 100: Was There a "Clay Bertrand"?
The JFK 100: Clay Shaw Admits an Alias
NOTES:

1. Oliver Stone and Zachary Sklar, JFK: The Book of the Film (New York: Applause, 1992), p. 82. All quotations are from the shooting script and may vary slightly from the finished motion picture.

In the movie, Garrison (Costner) also states that "this company is linked to the Schlumber [sic] tool company here in Houma, Louisiana -- which is where their arms may have come from to David Ferrie and his Cubans . . ." This is a fiction Stone repeats from Jim Garrison; there was no link between Schlumberger Wells Service Company and Centro Mondiale Commerciale.

As John McAdams notes at the Kennedy Assassination Home Page, the newspaper clipping actually displayed in JFK "is not an authentic reproduction of an Italian news story. Rather, it shows an Italian translation of a headline that appeared in the French newspaper l'Humanite.'" "It does correctly summarize charges made by two Roman newspapers (l'Unita and Paese Sera). What Stone does not tell his viewers is that l'Unita was the official organ of the Italian Communist Party, and Paese Sera was a Communist-sponsored paper which consistently sided with Moscow against the West. And l'Humanite was the premier French-language Communist newspaper."

2. Jim Garrison, On the Trail of the Assassins (New York: Warner Books, 1992), p. 100. That Garrison knew about the relevant articles and had copies of them in 1967 is beyond dispute. He discussed the articles at that time with numerous staff members and associates, including Richard Billings and Paris Flammonde.

3. History of the Italian Press, Vol. 5, p. 241; John McAdams, Newsgroup post of July 9, 1999.

4. History of the Italian Press, Vol. 5, p. 241; John McAdams, Newsgroup post of July 9, 1999.

5. Max Holland, "The Demon in Jim Garrison," Wilson Quarterly, Spring 2001, p. 13.

6. Steve Dorril, "PERMINDEX: The International Trade in Disinformation, Lobster, No. 3, 1983.

7. Steve Dorril, "PERMINDEX: The International Trade in Disinformation, Lobster, No. 3, 1983.

8. CIA Memorandum No. 2, "Garrison and the Kennedy Assassination," May 8. 1967, Enclosure 21, Doc. No. 1430-492-Y, p. 4. New evidence from Soviet defector Visili Mitrokhin suggests that the Paese Sera stories about Clay Shaw may have been planted at the request of the KGB. The Italian paper had been utilized for this purpose previously. (See Max Holland, "The Demon in Jim Garrison," Wilson Quarterly, Spring 2001.)

9. CIA Memorandum, June 20, 1967, "Memorandum No. 4: Garrison and the Kennedy Assassination"; Record No. 180-10143-10220, Agency File Number 29-04-01, CIA Segregated Collection.

10. "For more than ten years the Contact Division of the CIA's Office of Operations, with its network of field offices throughout the country, has been tapping this vast potential of information on behalf of the intelligence community. Since 1948 over forty thousand individuals and companies have supplied information ranging into every field of intelligence. Through this collection operation the community has at its disposal the expert analysis and commentary of the most knowledgeable people in the academic, scientific, professional and industrial fields." (Anthony F. Czajkowski, "Techniques of Domestic Intelligence Collection," Studies in Intelligence, Vol. 2, No. 1, Winter 1959; reprinted in H. Bradford Westerfield, editor, Inside CIA's Private World: Declassified Articles from the Agency's Internal Journal, 1955-1992 [New Haven, CT: Yale University Press, 1995]; thanks to Jerry Shinley.) Some sources place the figure much higher, at 25,000 annually during the Cold War. (See for example Final Report of the Subcommittee on the Assassination of John F. Kennedy of the Select Committee on Assassinations, House of Representatives, p. 218; G. Robert Blakey and Richard N. Billings, Fatal Hour [New York: Berkley, 1992], p. xvii; Gerald Posner, Case Closed [New York: Random House, 1993], p. 86 fn.; Edward Jay Epstein, The Assassination Chronicles [New York: Carroll and Graf, 1992], p. 565.) DCS was later renamed the Domestic Collection Division, and is now called the National Resources Division.

11. Patricia Lambert, False Witness (New York: M. Evans and Co., 1998), p. 204. Lambert writes, "Shaw's contacts with the CIA's Domestic Contact Service were summarized in a memorandum released by that agency in 1992; some of the reports based on Shaw's information were released in 1994. Shaw was first contacted by the CIA's New Orleans office in December 1948; between 1949 and May 25, 1956 (when Shaw ceased to be a contact), he was contacted a total of thirty-six times. Eight reports were written based on Shaw's information. Six of those were "on hand" and described in the 1992 memorandum. Three concerned a trip Shaw made in March through May, 1949, to the West Indies, Central America, and Northern South America; and a fourth concerned a 1951 trip to Central and South America and the Caribbean area. The fifth report advised that Shaw had leased to the "CSR government" space for merchandise display in New Orleans for one year beginning in April 1949. The sixth, in March 1952, concerned a letter to the public relations director of the International Trade Mart from a trade consultant to the Bonn Government (CIA document, "Subject: Clay L. Shaw [201-813493]," "Enclosure 21"; "Approved for release 1992 CIA Historical Review Program"; Lambert, p. 325 fn.). Two of Shaw's DCS reports were deemed by the Assassination Records Review Board to contain material still legitimately considered sensitive, and for the time being, summaries of their content have been made available.

12. "The DCS's primary function has traditionally been to collect intelligence from Americans without resorting to covert methods [i.e., espionage]. . . . The DCS's normal operating technique is to establish relationships with businessmen, scholars, tourists, and other travelers who have made trips abroad, usually to Eastern Europe or China. These people are asked to provide information voluntarily about what they have seen or heard on their journeys. Most often they are contacted by the agency after they have returned home, but occasionally, if the CIA hears that a particular person plans to visit, say, a remote part of the Soviet Union, the DCS will get in touch in advance and ask the traveler to seek out information on certain targets." (Victor Marchetti and John Marks, The CIA and the Cult of Intelligence [New York: Dell, 1989], p. 199.)

13. CIA Director William Colby once explained that the CIA "can collect foreign intelligence in the United States, including the requesting [sic] American citizens to share with their Government certain information they may know about foreign situations, and we have a service that does this, and I am happy to say a very large number of American citizens have given us some information. We do not pay for that information. We can protect their proprietary interest and even protect their names if necessary, if they would rather not be exposed as the source of that information." (Marchetti and Marks, pp. 198-99.)

14. An internal CIA report states flatly, "We have never remunerated [Shaw]." (HSCA notes on Clay Shaw's CIA file, referring to "2/10/69--TWX #0002 to contacts/Washington, 10/13/67" [Record No. 180-10143-10221, CIA Segregated Collection, Box 19]; Lambert, p. 325 fn. 14.)

15. Meanwhile, spurious interpretations of recently released CIA documents have misguidedly fueled speculation that Clay Shaw was a CIA agent.

Garrison advocate William Davy claims that Clay Shaw was a "covert operative of the CIA," based on Davy's contention that Shaw possessed a "covert security number" for a CIA project called QK/ENCHANT. (William Davy, Let Justice Be Done [Reston, Va.: Jordan, 1999], p. 195.)

This is false. The source for the claim is a recent CIA release that summarizes Clay Shaw's contacts with the CIA between 1948 and 1956, then later states, "A memorandum marked only for file, 16 March 1967, signed Marguerite D. Stevens, says that J. Monroe Sullivan [Director of the San Francisco Trade Mart and an acquaintance of Shaw's], #280207, was granted a covert security approval on 10 December 1962 so that he could be used in Project QKENCHANT. Shaw has #402897-A." (Davy, p. 195.)

A covert security approval signifies clearance to use a subject as an unwitting source of intelligence, which jibes with Sullivan's recent affirmation to Patricia Lambert that he never worked for the CIA or knew anything about a Project QK/ENCHANT. (Lambert, p. 204 fn.) Davy identifies the number 402897-A as an indication that Shaw was a part of this mysterious project. However, 402897-A is only a general identification number of the sort that any contact would receive; Shaw's CIA file identifies its subject right up front as "Clay Shaw, 402897-A." (Record No. 180-10143-10220, Agency File Number 29-04-01, CIA Segregated Collection. The information on Sullivan is cross-referenced to Shaw's file due to the relationship between the two men. Neither QK/ENCHANT nor any other CIA operation is cited in reference to Shaw himself.)

In other words, it was J. Monroe Sullivan, not Clay Shaw, who was tenuously "connected" to the CIA.

What is QK/ENCHANT, anyway? CIA Information and Privacy coordinator John Wright has informed William Davy that information on QK/ENCHANT is still classified. "Yet," Davy writes, "an admitted ex-CIA employee has broadcast on a popular computer Bulletin Board System that QK/ENCHANT involved routine debriefing of people in the trade industry. Either this person has violated his/her secrecy agreement by revealing classified information or is deliberately spreading false information. Time will tell." (Davy, p. 314 fn. 19.)

An even more far-fetched claim comes from Garrison advocate Martin Shackelford, who writes, "Another recently released document connects Shaw to the top secret [CIA] project ZR/CLIFF, which was run out of William Harvey's super-secret Staff D along with the ZR/RIFLE assassination program." (Fair Play #25, November-December 1998.)

This too is false. Shackelford's source is a report that a freelance pilot named Leslie Norman Bradley was once considered for a CIA operation called ZR/CLIFF, "but for unknown reasons the offer of employment was withdrawn." (Davy, pp. 88-89.)

What does this have to do with Clay Shaw? A Houston man named Sam Kouffroth told the FBI that he had once asked Bradley "how he had been making a living since being released from the Cuban prison and he [Bradley] replied that it was pretty rough but that Clay Shaw of the International House was 'helping us.'" (Ibid.)

It was Leslie Norman Bradley, not Clay Shaw, who was tenuously "connected" to the CIA.

16. Harrison Livingstone, High Treason 2 (New York: Carroll & Graf, 1992), p. 509.

17. Patricia Lambert, False Witness (New York: M. Evans and Co., 1998), p. 204.
You may wish to see . . .
The JFK 100: Who Was Clay Shaw?
The JFK 100: Was There a "Clay Bertrand"?
The JFK 100: Clay Shaw Admits an Alias