The JFK 100
The District Attorney's Office Bugged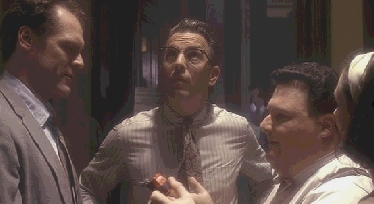 Were conspirators listening in at Jim Garrison's office?
Oliver Stone's JFK depicts New Orleans District Attorney's Office investigators Numa Bertel (Wayne Knight) and D'Alton Williams discovering hard evidence that listening devices -- "bugs" -- have been covertly placed in the DA's offices, presumably by the federal government:
Numa rushes in with a young investigator, Williams -- displaying a miniature microphone.

NUMA

HOLD IT, CHIEF . . .

Numa makes violent signals to shut up -- not to talk -- sticking the microphone in front of Jim. Williams searches the walls for the bug. Numa signals everyone outside.

GARRISON'S MAIN OFFICE

The staff comes out into the office with him, disturbed.

JIM (CONT'D)

What the hell is . . .

NUMA

Williams found this in your office . . . We think the conference room is also bugged. And maybe the phones. The whole place needs debugging.

The whole staff from the conference room reacts. Jim looks stunned.

JIM

I don't believe it!

SUSIE

Bugging the District Attorney's office of New Orleans! It's outrageous!(1)
Outrageous, indeed. But it never happened. Oliver Stone is making the entire thing up.

New Orleans District Attorney Jim Garrison was obsessed with the idea that his offices were bugged and his phone lines were tapped, but he never produced a shred of evidence that it was true. Recently declassified documents from the FBI and CIA show that no such activity ever occurred, nor was it ever so much as contemplated.(2)

However, it is worth noting that Jim Garrison engaged in precisely such tactics to spy on his journalistic critics. Garrison bugged the home of at least one of his witnesses, Perry Raymond Russo (with Russo's consent), in order to record conversations between Russo and reporters.(3)

The DA also claimed to have been tapping the phone of NBC reporter Walter Sheridan,(4) and he had Jack S. Martin make phone calls to reporters and surreptitiously record them. The idea was for Martin to offer reporters information on the DA's JFK probe in exchange for cash, to try to entrap reporters into a bribery charge, which should give one an idea of how desperate Garrison was to make a case against anyone, for anything; not a single reporter took the bait.(5)

Once again, it proves to be, not the federal government, but Jim Garrison himself that Oliver Stone should be scrutinizing.

Copyright © 2001 by David Reitzes
NOTES:

1. Oliver Stone and Zachary Sklar, JFK: The Book of the Film (New York: Applause, 1992), pp. 99-101. All quotations are from the shooting script and may vary slightly from the finished motion picture.

2. See for example the CIA memoranda documenting the Agency's interest in the Garrison probe. Garrison obsession with bugs and wiretaps: see for example, James Kirkwood, American Grotesque (New York: Harper, 1992), pp. 534-35; Warren Hinckle, If You Have a Lemon, Make Lemonade (New York: Putnam, 1974), pp. 198-99.

3. Transcript, State of Louisiana v. Clay Shaw, February 11, 1969, (2011) pp. 344, 423-24; see also James Kirkwood, American Grotesque (New York: Harper, 1992), pp. 167, 616, 620, 631.

4. Bernard "Bud" Fensterwald, "Notes on interview with Jim Garrison, District Attorney, New Orleans — 1:00 to 4:00 P.M. at Criminal Courts Building, New Orleans. Also present part time: Louis IVON, Garrison's Chief Investigator," August 26, 1967, formerly available at the Assassination Archives and Research Center (AARC) in Washington, DC: "Garrison was extremely interested in our wiretap investigation. Feels strict legislation is very necessary. Says he only uses it against 'guys like Sheridan.' Feels his office and home phones are tapped by the Bureau but doesn't care." "Sheridan -- No good Bastard -- Compared him with Nazis."

In an article for the New Orleans Times Picayune, reporter Rosemary James, who broke the story of Garrison's JFK probe in February 1967, claimed, "Garrison used illegal wiretaps to gather information to use for coercion. He even tapped the phones of many of his political cronies to keep them in line." (Rosemary James, "She Does Have Something," New Orleans Times Picayune, July 11, 1999.)

5. Patricia Lambert, False Witness (New York: M. Evans and Co., 1998), p. 300 fn. 13.
Back to the top